Text Author
Doc Wearing Hat for Halloween




Photo from Asheville-Citizen Times, Friday, Oct. 31, 1997

Doc Ruiz

Ruiz Website



Ruiz Teaching Awards (in blue below)

The 1995 UNCA Teacher Award

The 1997 Natural Sciences Award

The 2004 Board of Governors Award

2009-2010 Ruth and Leon Feldman
Professor for Scholarship and Service

2017 Scholarly and Creative
Achievement Award
Newspaper Caption: "Michael Ruiz, professor of physics at UNCA, uses computer technology to help illustrate lectures to the students, including these non-science majors who are taking a course called The Physics of Sound and Music. Ruiz got funding for the computer design program through the National Science Foundation, one of the options discussed by the state's college and university presidents during a meeting in Asheville Thursday." Asheville-Citizen-Times, Mountains, Friday, October 31, 1997, page B1. (Photo by John Coutlakis)
Prof. Ruiz was the first faculty member to receive all three major UNCA teaching awards. His innovative use of educational multimedia materials delivered over the Internet has received international recognition.
Your author's e-texts were featured as a top story on CNN in 2002. His e-texts are successful because you only download a small piece at a time - you download what you need at the moment and nothing more!
E-Book Learning. The Top Story in Science/Technology (CNN) on August 31, 2002.
CNN: NEXT@CNN (Aired Saturday, August 31, 2002 and Sunday)
---
Jamming with Students (December 2001)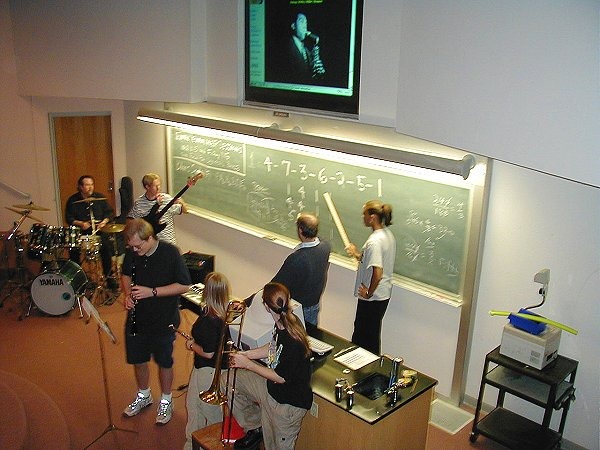 From left to right: Earl Brackett on Drums, Bryan White on Bass Guitar, Landon Bellavia
on Clarinet, Shannon Siemens on Flute, Doc on Keyboard, William Bryan (Liam)
on Trumpet, and Tonisha Jackson Conducting.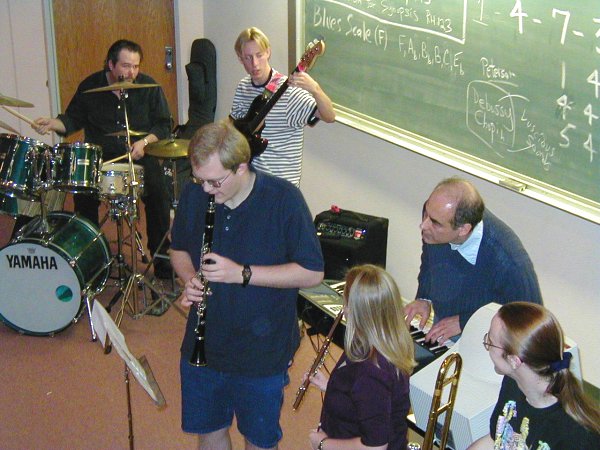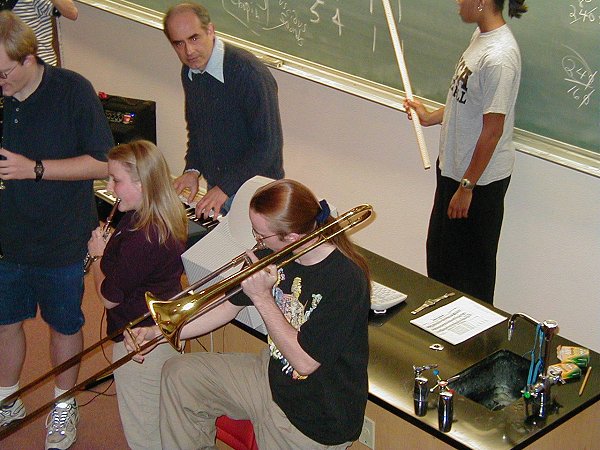 ---
Jamming with Students (December 1998)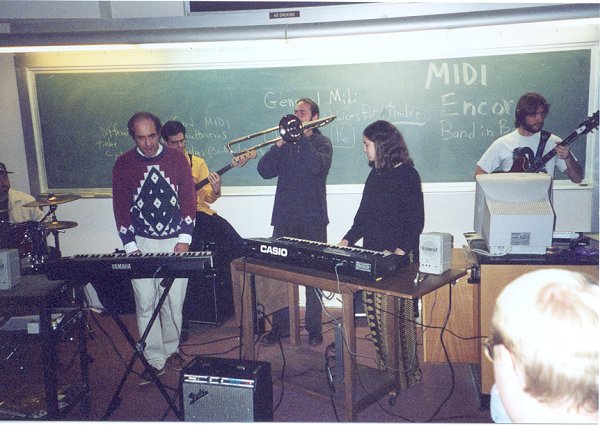 From left to right: Tim Leogrande on Drums, Doc Ruiz on Synthesizer, Grant Cuthbertson
(a former sound student from Fall 1995) on Bass Guitar, Eric Lenington on Trombone,
Christa Ruiz (the Doc's daughter visiting) on Synthesizer, and Landon Mattox on Guitar.
---
A Mother Bear and Four Cubs Visit Doc
Bear Footage by Doc Ruiz, May 25, 2008. WLOS Clip June 6, 2008.
---
Driving to UNCA: Six Bears
Bear Footage by Doc Ruiz, December 1, 2015.
---
Doc Appears in the Short Rocky Movie as Rocky Crashes Sound Lab
Movie made during the 2010-2011 Academic Year. Private Screening April 28, 2011.
University Mascot Rocky the Bulldog (2006, Alabama - 2016, Asheville)
---
What Not to Wear Season 9, Excerpt from Episode Frances (First Aired August 14, 2012)
Doc Hugs Daughter Frances on "What Not to Wear" Episode. By the way, Claire Chapman, who nominated Frances and is first to appear in the above excerpt, is the daughter of the physician whose commercial airline pilot father saw the SR-71 as a UFO in the 1960s. Claire and Frances were in an Asheville preschool together in the mid 1980s.